Las Vegas, November 2001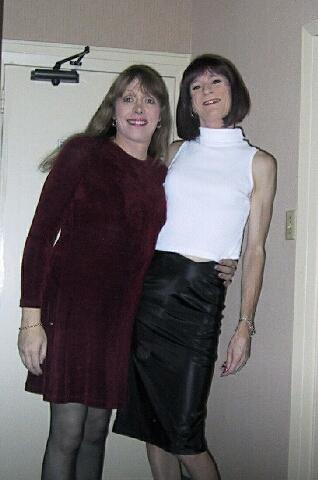 What's a TG Party Girl gonna do in Las Vegas? Honey, Vegas is TG Party Girl Heaven! Your TGPG founders (Jamie and me) took a weekend trip there, and had a great time. Let me recommend some things to do you on your next trip.
First, head for Serge's Showgirl Wigs, 953 E. Sahara, 732-1015. This is a large store with a wonderful selection including all the major lines. The staff is all licensed beauticians, so they know how to make the wigs look great and they will do any cutting and styling you need on the spot. I had been looking at some items from the Rachel Welch collection, and I was able to try all the styles and colors I was interested in. A wonderful girl named Amy helped me, and she treated me like a queen (pun intended.) A smart shopper would check out the wigs at Serge's and then find the best bargain over the Internet, but I had such a great time that I didn't mind paying their price. (I noticed that the wig styles had different names than I had seen on the net, which I guess they do to discourage comparison shopping.) Anyway, here I am in my new wigs: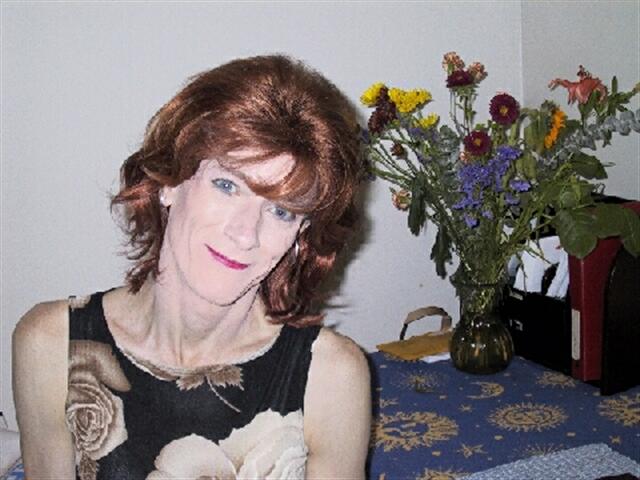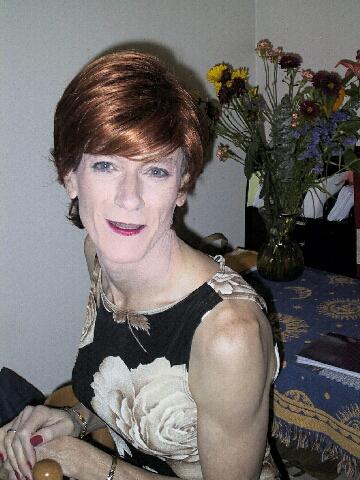 Clothes shopping is the next thing on the TG Party Girls activities list. We did the mall at the Venetian, where they have all sorts of beautiful imported clothes and shoes shoes SHOES. In this case I was just window shopping, I can't afford those prices! The Venetian's mall is a pretty stroll around the Grand Canal where a beautiful vaulted ceiling turns night into day. I can also recommend the great huge mall at Ceasers, which I visited on a prior trip.
Of course eating is another major activity. We noticed that the prices at most of the restaurants in the hotels were pretty high, not bargains like in the old days. The buffets are still great deals, so we did the buffet in our hotel The Tropicana our first night. It's a smallish buffet compared to the lavish affairs at some hotels, but the food was excellent and we didn't have to wait in a long line. Saturday we treated ourselves to dinner at one of the many Wolfgang Puck restaurants around town. We chose the one at Mandalay Bay and we were not disappointed. The food was absolutely fantastic and atmosphere was classy.
Okay okay, if you know Jamie and me at all, you know there had to be dancing. The pic at the top of this article is us on Friday night, just about to head out to the Bellagio / Paris / Venetian area in the middle of the strip. (You don't need a cab for this, there's a free tram that runs from the MGM down to Bally's. Also there's a free monorail that runs from the Excaliber over to the Luxor and Mandalay Bay.) The only major dance club mid-Strip is C2K in the showroom at the Venetian. Dancing starts at 11. Girls get in free, so we liked that! The main club is pretty big, with a big dance floor, and lots of bars and places to sit and stand around the periphery. The music was hip-hop, which the kids seem to like. We got bored with that before long, but found a smaller room upstairs with some nice house music, so that was fun for a while. Then we took a cab out to Gypsies, the only gay dance club in Vegas. Gypsies is off the strip, a short walk from the Hard Rock Hotel. It is a medium sized club, a very friendly and happening place. Cover is $10. (Girls do NOT get in free!) It has a smallish, packed dance floor, with the pounding house/techno music that seems to be typical at the gay clubs. There's a glassed-off back room with a bar and some lounges, where the sound level is low enough to allow conversation. And there's another make-out room behind that, although when I looked it was being used for conversation, not making out. There were a couple of other trannies in the place, plus I met a couple of gays that do drag. I think the crowd was maybe half tourists and half locals. Anyway, it was a very fun place. We left about 4am, and walked over to the Hard Rock to see if anything was still going on. But their dance club had shut down by then, so we taxied back to the Trop.
Saturday night we checked out the dance club at the Mandalay Bay. It looked pretty nice, but they had a $20 cover and only "local girls" got in free, so we decided to skip it. Instead we went to Studio 54 in the MGM. They've recreated the spirit of the old Studio 54, all the way down to the 45 minute wait in line to get in. But wow, it was worth it! It was packed inside, and there was stuff happening everywhere. The dance floor is pretty big, and it's open for 2 or 3 levels up. The music is a mix of disco and techno. Lights are flashing. There are go-go dancers on platforms. There are showgirls on swings suspended over the dance floor, hanging by their knees and dropping confetti over the crowd. The only problem was that it was so crowded, there was no where to sit down when we got tired. So after a while we left there, and headed back to Gypsies again. It was much more crowded than the night before, and we had a great time again. I guess you can gamble in Vegas, too. We didn't find time for any serious gambling, but I had brought some rolls of quarters so we played the slots and poker machines some. My gambling losses netted out to 50 cents. Damn, I'm always leaving money in that town!
Day or night, we didn't experience any hassles around town, whether walking around, eating in the restaurants, using the ladies' rooms, or clubbing. Most people ignored us completely. A number of people checked us out, but only a few were rude or curious enough to ask, "Are you men in dresses?" If you are sensitive about being read, this may not be the town for you. (I packed a wardrobe of all basic black and white, leading me to joke that I was the answer to the old riddle, "What's black and white and red [read] all over?")
Lastly I am happy to report that I had absolutely no problems at the airports, even though I was travelling en femme with a male id. In fact, there was no hassle at all flying out of San Jose. But Sunday morning leaving Vegas, there was about a 45 minute queue at check-in, and another 25 minutes at security. So it is a good idea to get to the airport a couple hours before your flight leaves, like they say.
And, like they also say, "Viva, Las Vegas!!!!" I'll be back!
Luv,
Lannie 11/2001
---